A unique & memorable experience
Barnes & Maracle have a wide range of service styles to meet the unique needs of your event. We are dedicated to using sustainable ingredients and practices.
Spring Dinner at the Duncan Community Lodge
May 13th, 2023 at 6:30pm | $140 per person

Reservations can be made by email barnesandmaracle@gmail.com
or Phone 250-710-1058


Menu
Spot Prawn and Saffron Fritter with Nettle Dip
Seared Tuna with Pickled Fiddleheads, Olives, Tomatoes, and Roasted Potatoes in a Preserved Lemon Vinaigrette
Pan-Roasted Chicken with Smoky Olives, Brandied Apricots and Cannellini Beans
Delicata Squash with Labneh, Pomegranate Seeds, Herbs and Honeycomb
Spring Vegetables with Herby Vinaigrette
Rhubarb and Lemon Trifle with Pistachio and Pine Nut Crunch
*Wine pairings to be announced
Catering

Barnes & Maracle is passionate about providing elegant catered experiences for any event with multiple styles of catering services.

VIEW OUR MENUS

Dining Experiences

Elegant multiple coursed, plated and wine-paired events. Extreme attention to detail for each element of the meal. From food to service to wine.

VIEW OUR MENUS

Private Chef

Barnes and Maracle provide inhouse chef services for elegant meals that are customized to our clients tastes and dietary needs. 

LEARN MORE
"The braised brisket is sooooo good! The perfect comfort meal for this time of year. I love that I can invite a friend or just freeze leftovers (being a single female this meal was at least 4 meals for me). The ginger sesame wings are awesome as well!"

- Maria Hiles

"Wow, just finished delivered Chinese New Years feast from Barnes and Maracle, absolutely delicious, one simple page of heat and serve, kept taste at optimum, quality ingredients could have fed 4, but will have enough for tomorrow, loved every bite. 5 stars!"

- Roswynne Cuthbert

"First I wanted to say that our meal was ABSOLUTELY INCREDIBLY DELICIOUS - my girlfriend and I kept oohing and aaahing with every bite. I can safely say we ate three dinners that night (the last one was your salad at 3 am with a bottle of Unsworth's pink Charme L'lle."

-Sheila Le Badman

"A little note this morning to say WOW, and well done, the long table dinner at Zanatta on Sunday was fabulous. It was such a wonderful evening of perfect summer flavours, lovely presentation, and graceful service, paired well with wine and made sublime with the beautiful Cowichan Valley Zanatta setting."

Donna & Douglas

"All your meals are excellent! We are so glad we have your kitchen to rely on, especially when entertaining a few groups this summer. I have to highlight - your Glow Bowl is incredible!  And your dressing for the Citrus salad is spot-on perfect!"

- Rebecca

"What an amazing menu for my son's wedding this summer! Followed up with a delicious staff dinner. Your food is delicious."

- Colleen Jang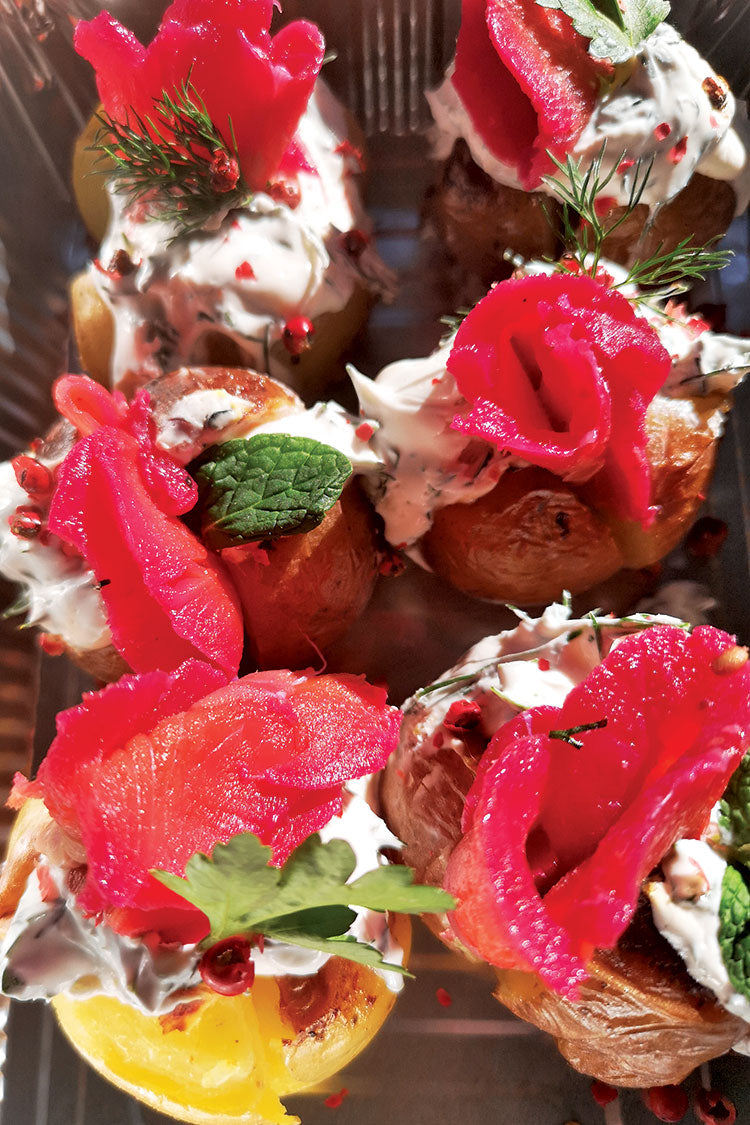 Prepared Meals Delivered
We create delicious meals that are easy to reheat and assemble. We make menus based on what you like to eat or to your dietary requirements using seasonal local ingredients.
LEARN MORE